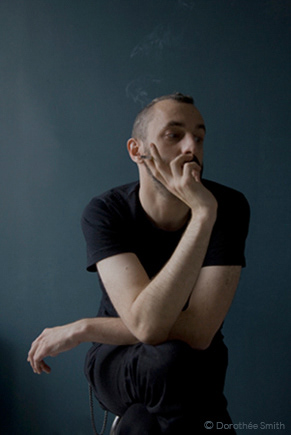 Fredster a grandi dans le nord de la France et a étudié les arts graphiques en Belgique.
Depuis 2005, Fredster concentre ses activités artistiques sur la figure masculine. Il travaille à redéfinir les archétypes de la virilité et explore de nouvelles représentations des masculinités.
Fredster vit et travaille à Nantes. Il a contribué à de nombreuses expositions, festivals queers et résidences artistiques à Paris, Bordeaux, Nantes, Arles, Leipzig et Montréal, et a présenté sa première exposition personnelle à Turin en septembre 2016.
Son travail a par ailleurs été publié dans des magazines et fanzines en Allemagne, en France, au Canada, en Italie et en Espagne.
Fredster à créé 'Chaudes', un fanzine dédié au dessin homo-pornographique, en juillet 2017 et à auto-édité deux livres sérigraphiés sur son travail.
Fredster grew up in a small town in Northern France. He studied Art and graphic design in Belgium and then moved to Paris where he worked as a graphic designer and organized small queer alternative parties where he met many inspiring and creative people who eventually led him back to drawing. 
Since 2005, Fredster has been devoting himself more and more to drawing. Focusing on the male figure, he works to deconstruct archetypes of virility in order to explore new images of masculinities.
Fredster now lives in Nantes, he contributed to several art exhibitions, queer festivals and residencies in Turin (IT), Paris, Bordeaux, Nantes, Arles (FR), Leipzig (DE) and Montréal (CAN). 
His work has been published in magazines and fanzines in Germany, Italy, France, Canada, and Spain. 
since July 2017 Fredster is running 'Chaudes', a fanzine dedicated to homo-pornographic drawings. He also published two screen-printed books of his work in 2013/2014.
EXHIBITIONS

June 22nd to September 14th 2019: 
Tout doit disparaitre - Group show - galerie Provost Hacker - Lille (FR)
May 30th to June 2nd 2019:
Does the body - Solo exhibition at Mushi Mushi 9 - Solilab - Nantes (FR)
April 7th to 28th 2017:
Okama Matsuri - Solo exhibition - Kiosko - Nantes (FR)
October 2010: 
SHOULDER OF PORK AND HAM - Le Milieu - Montreal (CAN)
Collective exhibit for the Artivistic-TURN*ON festival
October 2007:


 FREDSTER'S DISORDER - Bouygerhl Festival - Leipzig (DE)
Video premiere as part of this music/movies/art queer festival
October 2006:


WHATEVER I AM IS FOR TODAY - Delikatessen Gallery - Leipzig (DE)
Collective exhibition within the Bougherl Festival
November 2006:
PM - HOMMAGE AU CHAMAN - Festival de film gays & lesbiens de Paris - Paris (FR)
Premiere of Pierre Molinier-inspired video for the Sexperimental selection within the Paris gay & lesbian film festival 
2017 : 


Portfolio in FUKT Magazine #16  
Portfolio in Style Magazine Italia - Corriere della Serra 
2010:


Quinnford + Scout 
Pref Magazine
Revue Semaine
2009 :


Le Supi#3 (design and illustrations of fanzine's issue)
Catch Fire
2014:


Self-publication of a series of 5 screen-prints - 50x70cm - 14 copies each.
2013:


Self-publication of a screen-printed artist book, '777 book' - 21 copies

Kraft festival Artist residency (creating books with professional printers) - Nantes (FR)
2010:


HIV/AIDS prevention video for INPES (national healthcare organism), 
published by the online magazine Yagg